Greenheart Exchange's community hosts high school students from all over the world. Exchange of culture IS diplomacy in real-time action. Exchange cultivates a greater sense of understanding of our many similarities, and of the differences in how we celebrate holidays, prepare food, and live our lives. 
We often ask Greenheart's cultural exchange students to tell us how they see things…what is their experience like?  We recently heard from Nadia about her time here so far. She is from Indonesia and is being hosted by the Sexton family in Washington state. Nadia is here as part of the Kennedy-Lugar Youth Exchange and Study Program sponsored by the U.S. Department of State (YES Program).  Here is her story.
YES, please!  An Indonesian Exchange Student's High School Year in the USA
Hello! My name is Nadia (from Indonesia), and I'm hosted in Washington State. I have no regrets about being an exchange student–A 17-year-old student, living in another part of the world, meeting new people, making friends, having a new family, and seeing new cultures. I face a lot of differences between America and my home country, Indonesia. As simple as the weather– that is much cooler than Indonesia and a lot of new American foods. However, all the challenges make my exchange year more exciting. People here are so welcoming and friendly.
I am a 12th grader. It's interesting because I can choose subjects that I'm interested in. Also, there is the moving class system which is so different from Indonesian school where I stay in the same classroom the entire day.
I'm not a runner in Indonesia, but here, I joined the cross country sport. Basically, it's just running, but in a long distance. Such an amazing experience because besides running everyday, I make a lot of friends from cross country–a super-duper supportive team and coaches, and also we travel around Washington for the cross country meets with other schools every week. I learn to appreciate others–and that my limit is not what I thought.
I did my first ever choir concert and sang 3 songs there at the Art Center. I went to the Pumpkin Patch, did my first Halloween party (I didn't celebrate Halloween in Indonesia), and also did the trick-or-treat. I did some volunteer activities such as making the dog's treats in Yakima Humane Society, and helped a show for the Valley Musical Theater.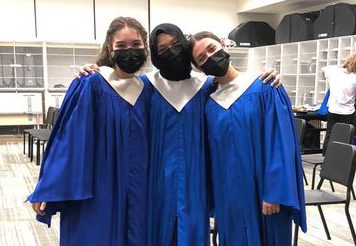 In International Education Week, I did 3 presentations in different classes. That was an adorable experience where I can tell a lot of things about my home country to American people. Most of them have no idea about Indonesia, even the location of Indonesia on the world map.
I tell about Indonesia's culture, our flag, diversity, national symbol, motto, and anthem, traditional food, clothes, song, and dances, tolerance, teach them Bahasa Indonesian, and share about Islam which is the major religion in Indonesia. I wear the traditional clothes as well as give them Indonesian money, bracelets, and candies. They are so excited to ask about my home country too. It's so much fun when I read their opinion after watching my presentation and they all give positive feedback. They said that I really opened their eyes about Indonesia, Islam, tolerance, and differences. They are also excited to learn Bahasa Indonesian.
Thank you U.S Department of State, YES Program, and Greenheart Exchange for making this happen, and giving me the opportunity to build a bridge of understanding between Indonesia and America."
About the YES Program
The U.S. Department of State's Kennedy-Lugar Youth Exchange and Study (YES) program allows high school students from 37 countries with significant Muslim populations to live and study for an academic year in the United States. YES students serve as "youth ambassadors" of their home country, promoting mutual understanding by forming lasting relationships with their host families and communities.  Participants live with a host family, attend an American high school, acquire leadership skills, and engage in activities to learn about U.S. society and values; they also help educate Americans about their home country and culture. Applicants compete for YES scholarships through a rigorous, merit-based selection process.  The YES program was established by Congress in October 2002 in response to the events of September 11, 2001. 
Interested in Hosting a High School Exchange Student?
For those who travel, exchange is eye opening. For those who welcome travelers in their homes, it is also eye opening–like traveling without leaving home. And for both–it's a great way to foster peace and love. And, as some wise person once said, "what's so funny about peace, love, and understanding?" If you are interested in bringing the world to your community, please consider hosting an exchange student with Greenheart! For more information and to begin the application process, please visit HOSTwithGREENHEART.org.