On Thursday, March 9th, Greenheart participated in Advocacy Day in Washington D.C. Greenheart was proud to support the Alliance for International Exchange's #AdvocacyDay.
The day is for meeting with members of Congress to discuss the cultural, professional, and diplomatic value of international exchange programs. In this complex and divided world, exchange programs unite the world's citizens for impactful opportunities that extend far beyond national boundaries.
On Advocacy Day, organizations who are members of the Alliance for International Exchange, come together and visit with Representatives and Senators. Greenheart staff members, Daniel Ebert (President) and Haldis Toppen (Communications Director) represented the  states of Wisconsin and Pennsylvania and met with the following representatives:
Office of Rep. Mike Gallagher (R-WI, 8)
Office of Rep. Mark Pocan (D-WI, 2)
Office of Sen. Tammy Baldwin (D-WI)
Office of Senator John Fetterman (D)
Office of Senator Bob Casey (D)
During this time, we asked for support for important cultural exchange programs like Summer Work Travel, Intern, Trainee, TeachUSA, and High School. Specifically, we requested Congress:
Increase Federal Funding for Department of State educational and cultural exchange programs.
Support Visa Processing by providing the Bureau of Consular Affairs the needed resources to facilitate as many exchange visas as possible.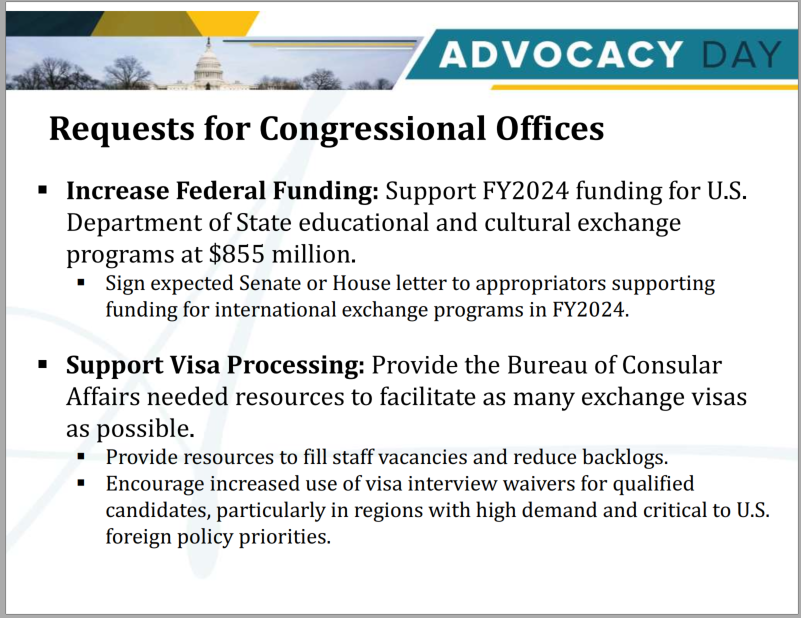 All representative and senatorial staff members showed interest and promised that they would share the resources with their Representative and Senator.
It was a true honor to represent our industry and states in our nation's capitol to the people who can make important changes legislatively and through resolution messaging.
If you'd like to learn more about Greenheart Exchange's cultural exchange programs, visit GreenheartExchange.org.
To learn more about Greenheart, visit Greenheart.org.