At Greenheart, we believe in the power of volunteering to help each other and to help the planet. For our FLEX-YES grant students, it is a requirement to participate in the Global Youth Service Day. One of our FLEX students, Zhanbolot from Kyrgyzstan shared his experience from the last Global Youth Service Day. Zhanbolot is hosted in Michigan and knew that the local Lions Club needed help for their Roadside Cleanup crew. He jumped in to help organize the clean-up.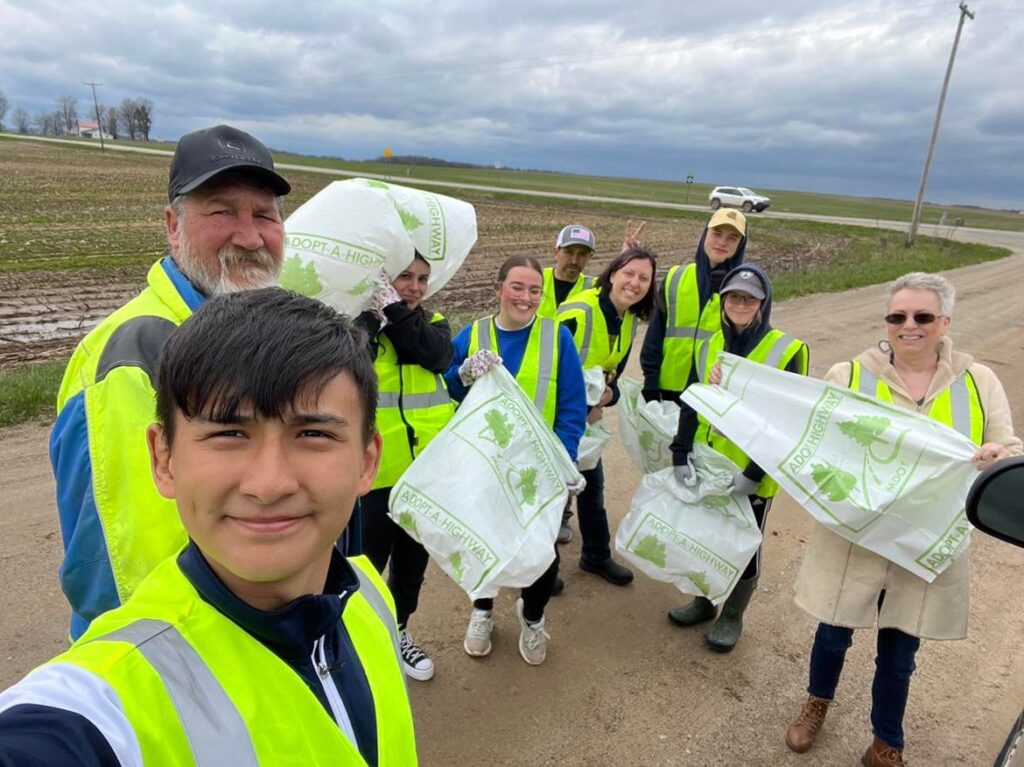 Zhanbolot wrote:
"It was definitely a great experience to organize this cleanup project in Lakeview. I was amazed how people of Lakeview are always ready to help and support in volunteering projects. What I liked most was the advertisement of this project. I advertised it through social media, and I create a flyer with a QR code so students could easily sign up for this project by scanning it. Of course, I appreciate the help and support of my host mother and my local coordinator as well as other volunteers who help me out."
The Lions Club in Lakeview wrote:
"Sunday afternoon, May 1, you may have noticed a lot of people in yellow vests in Lakeview on M-91 between Kendaville and Deaner roads. Three times a year Lakeview Lion's Club cleans up that 2-mile stretch of road and this year 18 people answered the Club's call to help. This year however, the added success was due to Zhanbolot, an exchange student from Kyrgyzstan. This exchange student is a scholarship recipient through the Department of State in their FLEX program and was instrumental in helping his Lion's club advisor by taking inventory of what was needed for the clean-up and finding volunteers for the activity. He also gave the safety instructions before everyone headed out to the road. Altogether, three local Lions club members, four exchange students, and 11 high school and adult residents of Lakeview participated. Despite the fact that there was a lot of trash to pick up, many of the students found some interesting treasures. In all, 34 bags of trash were collected on the 2-mile stretch.
The Lion's Club would like to thank Zhanbo for his huge contribution. This marks 106 hours that this young man has volunteered in the Lakeview community since arriving in August. Zhanbo is leaving to return home at the end of May. He will be missed by many people!"
The Greenheart Local Coordinator in the area, Lisa Jensen, wrote:
"I tell my Grant students that after of full year of volunteering, this is their grand finale to take everything they've learned throughout the year on volunteering and lead a project of their own. I'm so proud of Zhanbolot for how he jumped into this volunteer project and made it successful.  Well done!"
Thank you to Lisa for sharing the story, to the Lakeview Lion's Club for caring so much about the community, and to Zhanbolot for all your volunteering!
Zhanbolot competed in a scholarship contest to earn his exchange year here in the USA. The U.S. Department of State's Future Leaders Exchange program (FLEX) was created from the belief that the best way to ensure long-lasting peace and mutual understanding between the U.S. and the countries of Eurasia is to enable young people to learn about the U.S. and Americans firsthand, and to teach Americans about their countries. FLEX is a highly competitive, merit-based scholarship program funded by the U.S. Department of State. Over 35,000 students from Armenia, Azerbaijan, the Czech Republic, Estonia, Georgia, Greece, Hungary, Kazakhstan, Kyrgyzstan, Latvia, Lithuania, Moldova, Mongolia, Montenegro, Poland, Romania, Serbia, Slovakia, Tajikistan, Turkmenistan, Ukraine, and Uzbekistan compete annually to earn a FLEX scholarship, which provides for them to spend an academic year in the United States living with a volunteer host family and attending a U.S. high school.
​While in the U.S., FLEX students gain leadership skills, learn about American society and values, and teach Americans about their home countries and cultures. FLEX students perform community service in their U.S. communities and act as ambassadors of their home countries. Many are inspired by this spirit of volunteerism to develop and implement innovative projects in their home countries, using the skills and ideas they gained while on program. You can learn more about the FLEX program here.
If you spark to this story and want to help a foreign exchange student's dreams come true, please consider being a host family. Learn more about hosting an international exchange student.