We recently got a note from one of our awesome Local Coordinators, Tara, who is now also hosting an international exchange student.  Hold on to your tears.
So proud to be his host mama!
"Wanted to share the article that was featured in the local hospital where our Ukrainian son volunteers. Davyd is part of an extending FLEX group. During the summer he began volunteering at two of the hospital campuses, playing the piano. During my grandma's passing, he'd pass the time playing the piano too. He's incredibly talented and has a passion for others! The article made me cry! He really is the best kid. So proud to be his host mama!"
Tara is writing about Davyd. And here is the article from Bryan Health she references:
Meet Davyd, from Ukraine
Davyd, a student from Ukraine, was studying in Lincoln, Nebraska, through the Future Leaders Exchange (FLEX) program when he learned about the Russian invasion of his home country. He was only supposed to be in the United States for one year, but with the conflict, he and his family decided it would be best for him to stay in the U.S. Davyd kept himself busy with extracurricular activities until the end of the school year hit. "When school was over, I was like, I have nothing to do. I got bored," he said.
Davyd hadn't planned for summer in the U.S. So, he worked with his coordinator from Greenheart Exchange, to find some volunteer opportunities in the area. "She advised me, 'maybe you should try Bryan Health,'" he said, "and after all the interviews and when I got the basic description of Bryan as a whole, I decided that it would be really nice to do this here."
"This" was playing the piano for Bryan Health patients and employees. Since mid-May and throughout the summer, Davyd played the piano for about two hours every Tuesday at Bryan East Campus and every Thursday at Bryan West Campus.
"When he came in, we were so excited because we've never had a youth who was necessarily interested in playing the piano, who played classical music, so it was quite a treat for us," volunteer coordinator Ann Bauer said.
Davyd said he enjoys the activity because it helps lift people's spirits during times of anxiety and uncertainty.
Listen to Davyd's Piano Playing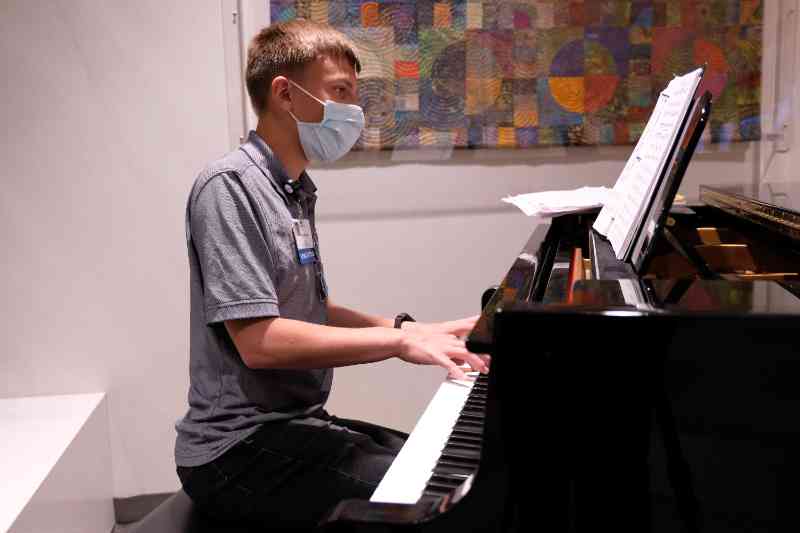 "When you're in hospital, honestly speaking, you're a little bit down all the time and something might hurt, or you're thinking about something bad," Davyd, who has been playing music for nearly 10 years, said. "Music helps you to go on with it and distract yourself from such thoughts and helps you feel a little bit better."
The music, Davyd said, even helps distract him from his own thoughts about the war in Ukraine. "In such difficult times, we really need to stick together, and as I can see right now, it really works for me, and finding such communities and giving back is really vital for me at this moment," he said. "As I was mentioning before, if I can distract other people, I can also distract myself (by playing the piano)."
As school starts back up, Davyd, now a senior, will finish his high school career at Lincoln Southwest. His volunteer schedule has changed to playing only at Bryan West Campus on Tuesdays from 3 to 4:30 p.m. He looks forward to the many more songs he'll play for whoever wants to listen.
"It really helps me spiritually," he said, "and I'm really glad that I can help other people spiritually too."
To Learn More:
Thank you to Davyd for his piano-playing passion and compassion.  Thanks to Bryan Health for sharing his story. And thanks to Tara and her family for hosting this extraordinary young man.  
Learn more about Hosting with Greenheart.