Greenheart is lucky to have so many awesome people in our global family. Take for example, Tara who is a Local Coordinator and works with Greenheart's Teach USA program and Host Schools too. Tara is enthusiastic about hosting exchange students–and so are her parents, Steve and Lou Ann!  Thanks to Tara for sharing a bit about their Christmas in Nebraska.
***
This Christmas was extra special with my parents (Steve & Lou Ann) who double host like us. We had 6 current and past students celebrating with us! It's wonderful having them in our family! And we love having exchange students as part of our story and being part of their lives. 💚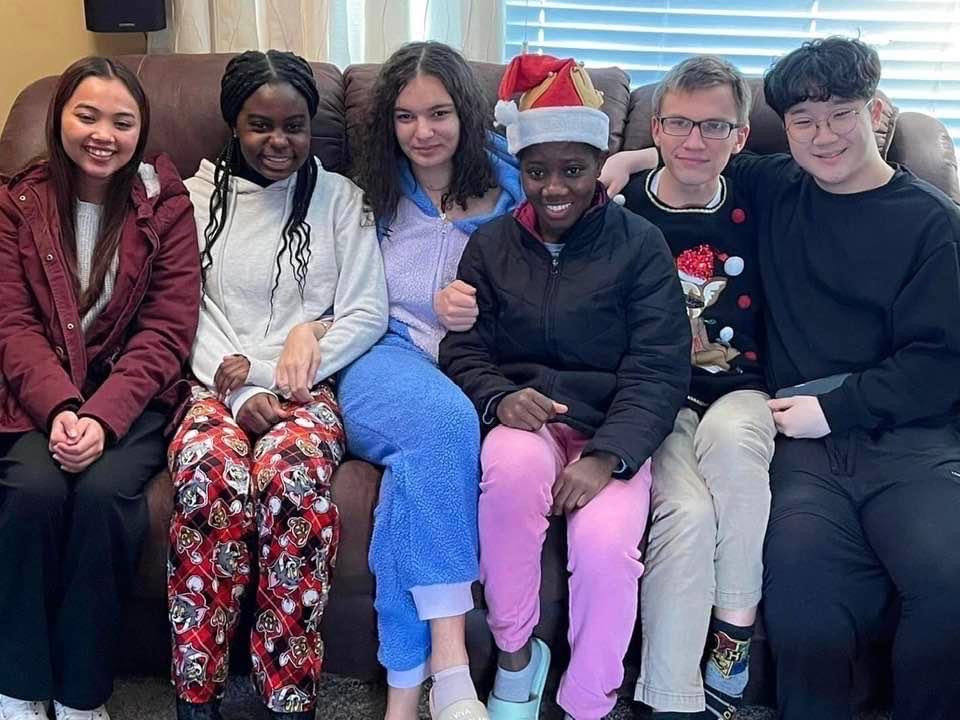 Pehn (F1) from Cambodia. Pehn arrived here at the age of 14, and graduated in 2021 from high school. My parents hosted her in 10th/11th grade in Fremont and then she moved in with us for her senior year in Lincoln at a small Catholic school. She's now 19 and a sophomore at the University of Nebraska. She lived with us her freshman year and just moved into her first apartment this fall. I love being her host mama and seeing her grow up! A few months ago, her Cambodian mother and sister (who is also an F1 student with Greenheart in Arizona) came to visit us in Nebraska. 😊
Aissatou is our daughter from Senegal. She's part of the YES program (a Department of State scholarship/grant program). I love being her host mom! She is so silly, funny, and caring!
Mariam from Armenia is here on the FLEX program (also a Department of State scholarship/grants program) and is hosted by my parents. She will graduate in May!
Zeta is from Liberia. She's also a YES participant, and is hosted by my parents. She is an amazing soccer player!
Davyd is our Ukrainian son. He is part of the FLEX program and extended his stay in the USA with Department of State permission. I was his LC last year and we are now hosting him! He'll graduate in May and is applying for universities in the US.  We are hoping he's accepted somewhere near Nebraska because we love having this extra special guy in our lives!
Youngho, who goes by Danny, is from South Korea. He was hosted by my parents in 2020. He went on to graduate in Alabama as an F1 with Greenheart and is now attending Stiny Brook University in New York. He was the only exchange student 1st semester in 2020, all other placements were cancelled because of the pandemic. What a strange year, he says, being the only exchange student!
The local newspaper did a story about celebrating the season around the world.  Towards the bottom are the interviews that mention Greenheart! 
***
Thank you Tara for sharing!  
If you, or someone you know, is interested in hosting high school students, please visit HostwithGreenheart.org to apply.