Lee and Roger White worked as Greenheart Regional Directors for about 15 years—finding the best host families for international high school exchange students and supporting their area's Local Coordinators. When Roger lost his battle to cancer in 2009, Greenheart created a scholarship in Roger's name to honor his extraordinary commitment to Greenheart and to Cultural Exchange. 
Who was Roger White?  by Lee White
"Most likely, I knew Roger better than anyone. I was married to him for 47 years. Before that, we were best friends in school. Throughout all those years, Roger remained my very best friend. After high school, Roger worked in a supermarket to save money for college and to buy a car. In 1963, the summer of our wedding, Roger purchased a blue Chevrolet for $258. The blue Chevy lasted until we graduated from college. The marriage lasted forever. 
Roger was a happy person who liked to have a good time! We grew up in a small town near the Gulf of Mexico. Roger liked to fish, to swim, to go out on a boat, and to hang out with friends at the beach. His favorite meal was a big plate of seafood at Wentzell's Oyster Bar. 
Roger had a saying that "work is only work if you do not enjoy what you do." So, as a Regional Director for Greenheart, working with cultural exchange was never "work." He loved people. For students, Roger was the fatherly person who gave good advice. For the Local Coordinators, he was the calm, logical, pillar of support.  
We also hosted over twenty exchange students from a variety of countries. Roger liked to take our exchange students to Colorado State University football games, to excursions in the Rocky Mountains or to the Grand Canyon in Arizona– introducing them to Native American cultures. While meals I cooked for all of us at home were healthy, I discovered from my son that Roger would take our students out for junk food in the middle of the night — after I was sleeping! He made the world a better place by bringing some fun into the lives of others."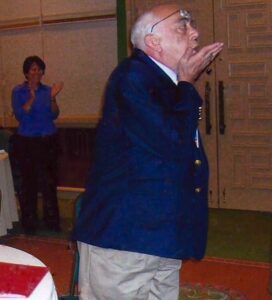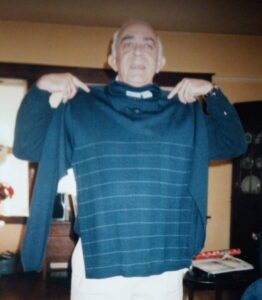 Roger and Lee as Hosts
Roger and Lee hosted two Czech brothers, George and Petr, who were among his favorites. These brothers were totally different back then —  they still are. George is very academic–he and his wife are pediatricians. Petr likes music the outdoors, mountain climbing, and is an attorney. Petr wrote about Roger and Lee from his home in Prague:
"Christmas is always hard times for an exchange student. For me, it was the first Christmas of my life without my biological family and I felt very homesick. My American family did feel that and as experienced cultural exchange workers they tried to make the best Christmas atmosphere possible. Lee made some traditional meals and prepared everything in the house. Roger took me for a ride to the part of town notorious for enormous Christmas lights and decorations, some of them even over the line, beyond where most people consider decorations nice and adequate. Roger commented on it all with his typical sense of humor, with mixture of kindness and maybe a bit theatrical delight with a little irony hidden underneath. So we were cheering over every house on our way, that had more flashing Santas and twinkling deer than the last one –and had big fun out of it. By the time we got home, any homesickness inside me had melted and we experienced a beautiful Christmas time, the real White Christmas!
During Spring break Roger and Lee took me for a trip to visit family in Alabama and enjoy warm weather in Panama City, Florida. It must have been really tough for Roger, because we drove all the way from Colorado to Northern Florida and back to show me all the different and interesting parts of the USA. Roger and Lee, both being born in southern Alabama and living in Atlanta for a while, had many stories and nice memories to tell in all the different places we visited. The American South is very different from the rest of the country, and the culture, the countryside, special dialect that sounded very nice to me– it all stays in my heart thanks to Roger and Lee and their personal memories and stories, that an average traveler cannot get to. Walking in New Orleans, enjoying typical southern seafood meals in Louisiana and Alabama (you cannot tell, what is and what isn´t typical without someone local to advise you), celebrating my 18th birthday in Dallas–so many of these memories of travelling with Roger and Lee will never fade."
What is the Roger White Scholarship?
Each year since 2010, Greenheart has awarded the Roger White Scholarship to one deserving student from Eastern Europe. The participant must have a B grade average, with no marks in English below a B for the past three years, no failing marks on their transcripts, and a solid Secondary Level English Proficiency score. For the winner, program fees are covered by Greenheart, while insurance, SEVIS, and roundtrip airfare are covered by CCI Czech Republic. Lee White sends a letter to the winning participant, who is hosted near Lee, and she meets and spends time with him/her during the course of the program.  
Roger's Lasting Impact
This year's student, Samuel from the Czech Republic, is soft spoken, smart, polite, and very "together". Lee was delighted to meet him, and is looking forward to seeing him again before the academic year ends.
Lee writes, "I will remain so very grateful for this scholarship in Roger's memory!  He would be proud of all of the students.  I can almost see him smiling over these photos. The best years of our lives were with Greenheart." 
Learn more
Here are a few Roger White Scholarship winners who share how this opportunity changed their life.
If you think you'd like to host an exchange student, please visit HOSTWITHGREENHEART.ORG.
If you are interested in working with Greenheart to find host families for international high school students, please visit PLACEWITHGREENHEART.ORG.
Please consider a donation to Greenheart in support of cultural exchange Scholarships and Global Impact Grants.